But before I do that, this is what my hair is doing.
up close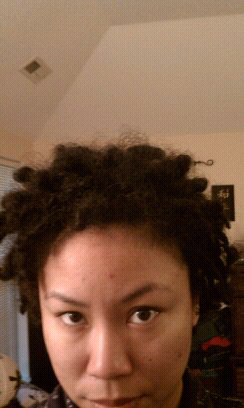 See how thrilled I am? lol. And yes, I need to do laundry like whoa.
I have dead ends/white tips. Can you see? That's so gross, and what am I supposed to do about it??
Can you see why I just am not feeling this look? I am, oh.. about 8 months in already, and just feel like nothing is happening up there. I am gonna wash and retwist without heat, so you may not see the results until tomorrow. Maybe this evening.
I am hoping someone joins us for dinner tonight, cuz I have a ton of chicken in the crock pot. I am experimenting with whatever I have on hand. Chicken breasts, OJ, ginger, garlic, white wine, mustard, curry powder. I'm adding some apples later cuz I have a bunch that need to be eaten. Serve it up over rice... what do you think? I hope it turns out ok. Anything I'm missing??