So, at my mom's the other day, what started out as my mom showing off her new (gorgeous) earrings, quickly became a jewelry show! My short hair was perfect for showing off earrings and necklaces. We got silly and had a ton of fun. Here's a snippet of her jewelry collection, and our silliness. :) enjoy!
I LOVE these. wantwantwantwant.
notice I'm only wearing one earring in this pic? lol.

 
This one is mine. I was wearing it when I went over there that day.
We have matching rings. I think this is our third set! :)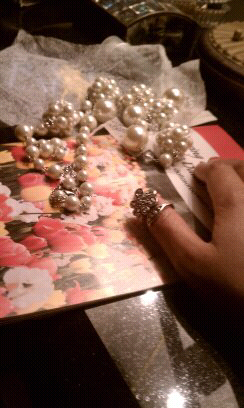 this is in my mom's bathroom. I love her style :)

close up